Inspirational Speaker and Author Don Shapiro Searches For How We Can Make Better Choices to Improve Our Life's Journey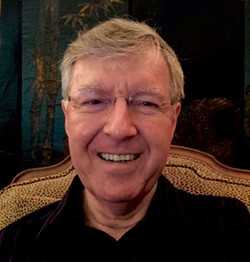 For over 28 years as a management consultant and speaker, Don Shapiro made a name for himself by asking the questions that no one else asked. That same curiosity got him thinking about this inner wisdom or voice that occasionally tried to guide him down one path or another. When he would follow that wisdom even though he had little or no facts to support taking that fork in the road, surprising things happened.
He has been studying how people make choices, improve their decisions and deal with change for over four decades. With the Life Is A Fork In The Road book project, Don is offering inspirational quotes and insightful wisdom about our journey through life.
How Life Is a Fork in the Road Found Don Shapiro
The book title "Life Is A Fork In The Road" and this entire project started when Don sent an email to his step daughter Kristin trying to help her solve a problem. Read the full story about the birth of the book's title. To finish the book, Don is collecting stories from people around the world and listening to their insights about the choices they have made. Don is writing Life Is A Fork In The Road on the Facebook Page for this book project. Join the discussion and read his inspirational quotes about life.
A curious nature, a passion for uncovering what causes things to happen and a creative spirit have driven Don Shapiro from childhood through his entire career. Sometimes it's driven other people crazy (but that's a story for another day)! Now it has lead him to create this world wide community all sharing stories, reading stories and offering comments to discover more about how our inner wisdom works.
Don Shapiro is the founder of The Leadership Initiative for the restaurant industry and President of First Concepts Consultants, Inc. , a leadership and management advisory practice as well as a speaker, seminar leader and trainer on leadership, change and strategy.  He is also the Creative Director for Rykristo Music Publishing which handles music licensing for the electronic music artist Alien Tribe.
Don is an author who loves to write and speak. Besides the two blogs he writes on this website, he also writes two blogs on his business site First Concepts Consultants, a blog for Positively Positive,  Lead Change Group and Simple Steps Real Change. Don is a frequent contributor to many group discussions as well as Q&A on Linkedin and has been a public speaker for over 40 years.